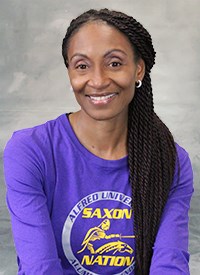 Meet Yourself Meditation - through the Eyes of Dr Angie Taylor
Dr Angie Taylor has enjoyed a distinguished career as an American athlete and coach, both at the intercollegiate and international levels. Since 2018 she has been the men's and women's track and field head coach at Alfred University, New York – where she uses her exceptional experience of coaching, mentoring, teaching to create an atmosphere that promotes successful high performances. She is also a co-developer and lecturer of the Foundations of Wellness course.
2015-2017 – Angie served as Project Manager for Team Nigeria in the 2016 Rio Olympics and Paralympics where 12 teams qualified and competed. She was part of the 2015 All-Africa Games held in Brazzaville, Republic of Congo where Team Nigeria finished second overall with 47 gold medals – the best team finish in the country's history.  She was a member of the National High Performance Task Team and the Director of National High Performance.
1999-2008. 2013 - Head Coach of the George Mason women's track & field team.
1995-1999 -  Angie served as a women's track & field assistant coach at Princeton University. During this time, the Tigers finished first in the Ivy League Indoor Heptagonal Championships twice and Outdoor Heptagonal Championships once.
Since 1992, Angie has been a USA National Coach with the Olympic Team, IAAF World Championships, Pan American Games, World Junior Championships in Athletics, World Cup, Goodwill Games and Junior Pan American Games. She also served an eight-year stint as a member of the Board of Directors. Angie coached world-class sprinter, Murielle Ahoure of the Ivory Coast, who has since won silver medals in the 2012 IAAF World Championships in Istanbul, Turkey and 2013 World Championships in Athletics in Moscow, Russia.
As a student-athlete, Angie was a nine-time Gateway Conference Champion at Illinois State and member of the Valley All-Centennial Track & Field Team. In 1992, the Gateway Conference recognized her on the All-Decade Team. On October 18, 2008 she was officially inducted in the Hall of Fame at Illinois State University.
"I am a passionate and committed high performance training coach. I serve on multiple sports commissions and coach a wide range of ages. Having been an athlete myself, and surrounded by athletes performing at the highest levels my whole life, I know what it takes to succeed in self-improvement. 
In the summer of July 2020, I was visiting my sister in Windsor, United Kingdom. One day we decided to walk to Datchet and just by chance we met Tasneem and Naheed. From meeting these two remarkable women, I became aware of Meet Yourself Meditation (MYM), and was keen to experience this Healing meditation.
During the MYM sessions, I have always felt a sense of peace and calmness. After the sessions, I feel very refreshed and able to control my emotions in stressful situations. I was so impressed by the MYM sessions that I went on to learn MYM.
I have experienced several positive changes since learning and practicing MYM.  I find that my mental, emotional, and spiritual health have all improved. My thinking has become clearer and more focused, allowing me to process and overcome challenging obstacles. I find myself thinking more positively because of learning and practicing MYM.
The immense value I gained from practising MYM inspired me to setup weekly MYM sessions with Tasneem and Naheed for the Foundation of Wellness course I teach at Alfred University. One benefit that most of the students expressed is that by doing the MYM weekly sessions it is easier for them to stay focused with academic tasks. Additionally, their state of mind is stronger mentally and emotionally to overcome life challenges.
MYM is a guided and healing meditation practice that helps to bring peace and calmness to its participants. I believe that everyone can benefit from practising MYM:
Practicing MYM can help school age children focus more effectively in the classroom by promoting calmness, allowing for more alertness and focused learning. Additionally, practicing MYM allows you to 'meet yourself' and address what is causing stress, fear, anxiety. Once the students get to know themselves by looking inward, they will trust their thoughts and actions and thus, boost self-esteem. As for college/university students and adults, I believe the same outcomes are achievable by practicing MYM. This practice is especially useful for young people and adults dealing with depression and mental health issues.
I categorically believe that MYM sessions would be an excellent activity to incorporate into the workplace. Learning and practicing MYM will assist co-workers to manage possible conflicts, misunderstandings and stress.
I would strongly recommend young people and adults to practice MYM, as I believe that this practice can help develop a sense of self-worth, emotional resilience and inner peace. Many of the students participating in the sessions at Alfred University have already stated that they feel a sense of self-worth and inner peace.
If you're considering MYM, my advice is to enrol in a few MYM sessions to experience a different type of meditation that offers healing components that are unique and different from most other types of meditations.  I believe that by practicing MYM, athletes, students, parents, everyone will learn consistently how to create a positive mental climate to perform at their best mentally, physically, emotionally, and spiritually."